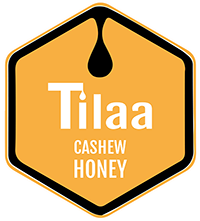 Agriculture is the biggest business in rural Ghana and in the northern half of the country, the challenges of that work are increasing as the drying climate extends the Sahara Desert further and further south into Ghana.
Tilaa is a sustainable beekeeping and honey production company that aggregates and sells high quality honey, beeswax, other bees products.as well as cashew nuts and animal feed from pruned cashew leaves. produced by its network of 250 rural women smallholder farmers, increasing their incomes and empowering them to take control of their own lives.
Tilaa's Honey gives farmers access to free beekeeping training, access to advanced beekeeping equipment, cashew seedlings, extension services and a guaranteed market for all the honey they produce. Our business model focuses on aggregation, processing, and distribution, shortening the supply chain to earn farmers more money for their efforts.
We have done this by:
Manufacturing and supply concrete beehives and other beekeeping equipment necessary to farmers.
Free training on hive management and modern harvesting methods to ensure a consistent, high-quality product.
Aggregation, processing and packaging in our own facilities, guaranteeing a market to our farmers.
In-house sales and distribution, both domestically to retail stores, hotels, restaurants and exports to Kenya and the United Arab Emirates.
Creating a network of farmers, 250 today, aiming to grow to 1,000 by the end of 2020
Ghana has, a capacity of over 15 million bee colonies and production potential of 200,000 tons of honey and 1000 tons of beeswax per annum. In 2015, Ghana produced only 10 tons and exported only 4 tons of beeswax.