Africa Eats has a unique structure, blending the best parts of a venture capital fund, a business accelerator, and Berkshire Hathaway to create an investment holding company optimized to support fast-growing, mission-driven, for-profit African companies.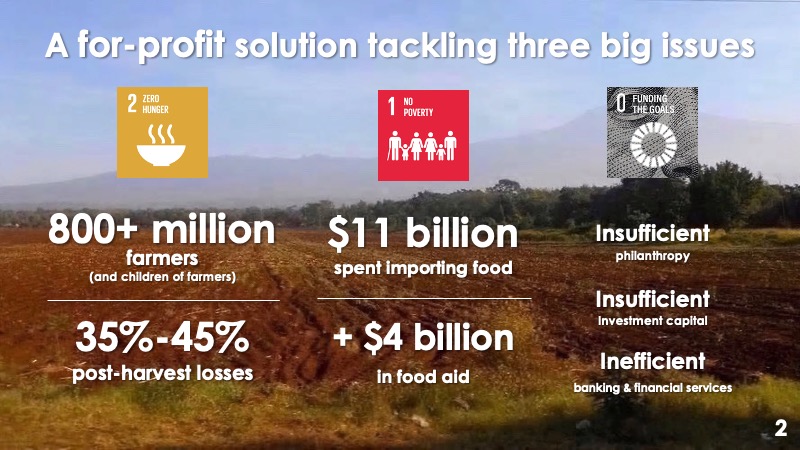 Africa Eats focuses on funding and growing for-profit solutions to hunger and poverty across Africa. Hunger, as most Africans are farmers (or children living on a farm), and together they grow enough food for the 1.1 billion Africans, but with post-harvest losses, the continent instead imports food.
Those billions in food imports don't help solve poverty. The path to solving both issues is investments, as only the private sector has enough capital to solve these problems once and for all.
The fact is that tens of thousands of solutions already exist across the continent, created by homegrown African entrepreneurs, most of which are suffering from lack of capital as they are too small for institutional investors, too risky for banks, too large for grantors to fund, etc.
We know this as the Africa Eats management team has been finding and working with these entrepreneurs for the past decade, not just in Africa but all across the world.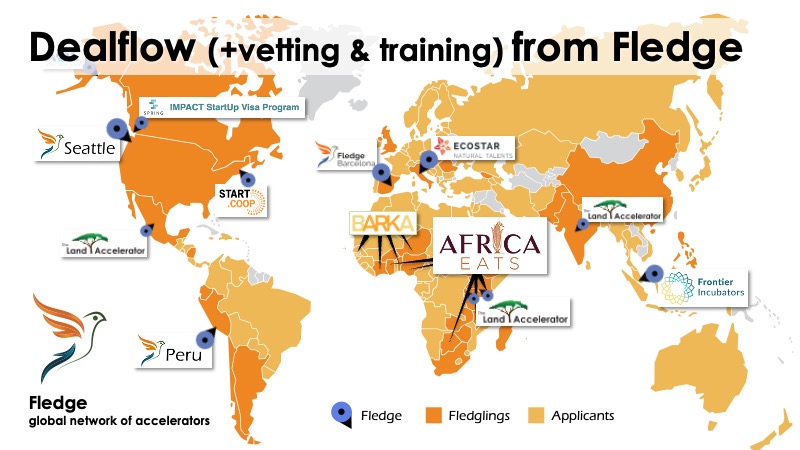 In 2020, Fledge took all of it's African food/ag investees and moved that whole portfolio to a then-newly created Mauritius-domiciled holding company, Africa Eats.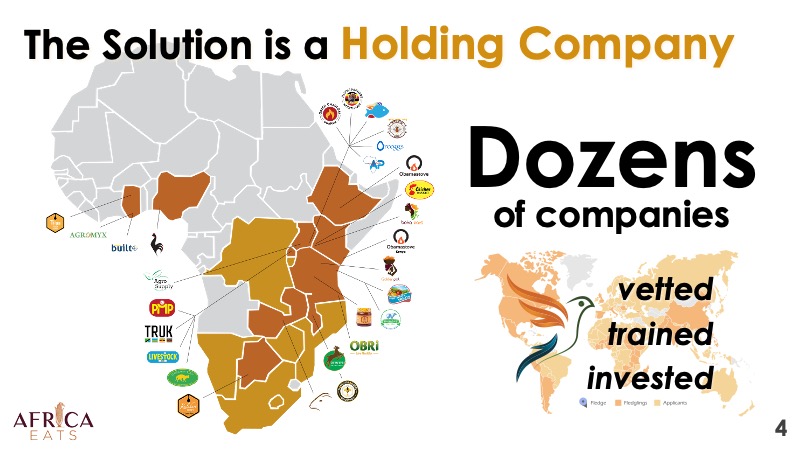 That portfolio has grown dozens of companies, based in 10 countries, exporting food to 15 countries in Africa plus a few more beyond the continent.
Similar to a venture capital fund, Africa Eats owns a minority stake in each of these companies. Each company has its founding team in place and we are here to help them grow and succeed, letting them run their companies as founders who know their markets far better than any investors ever will.
While Africa Eats is not a conglomerate, a KPI we track is aggregate revenues, i.e. the total of all the revenues earned from customers across all of the companies.
At the close of 2021, aggregate revenues totaled $16.8 million. Up 10-fold over the last five years.
The revenues are stacked by company, ordered by total revenues for 2021.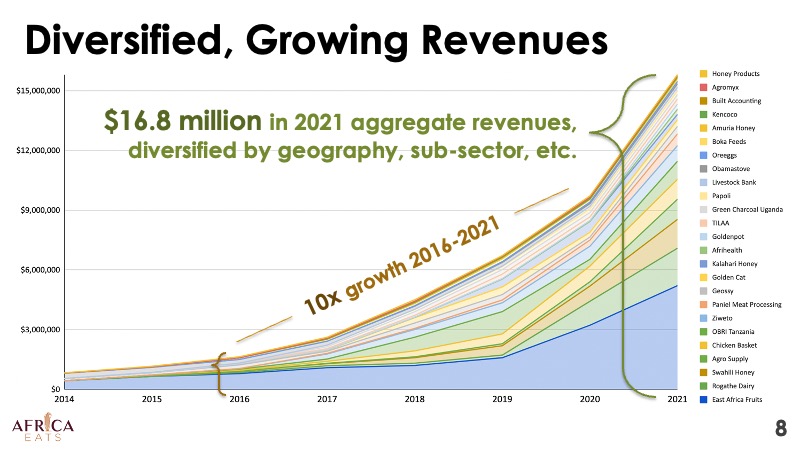 What you can clearly see is the diversity of sizes. A handful of companies are still small, earning under $100,000 USD per year. All but one were that small five years ago. After a few years of rapid growth a handful of these companies are now over $1 million USD per year.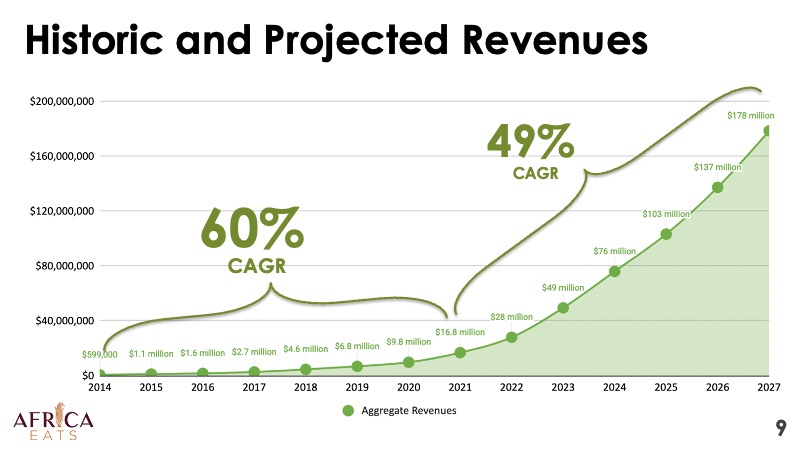 How long until these companies are collectively earning $100 million? Our projections say 2025, assuming no new companies get added to the portfolio (which is occurring organically as these entrepreneurs see more gaps to fill and new opportunities).
2025 assumes slower growth in the future than the past, as it tends to get harder to double revenues as companies get larger.
Food production underlies all these companies and all these companies rely on smallholder farmers to grow the food. Buying from those farmers increases their incomes by 40%-500%, pulling them from subsistence to middle class, reducing poverty along the way.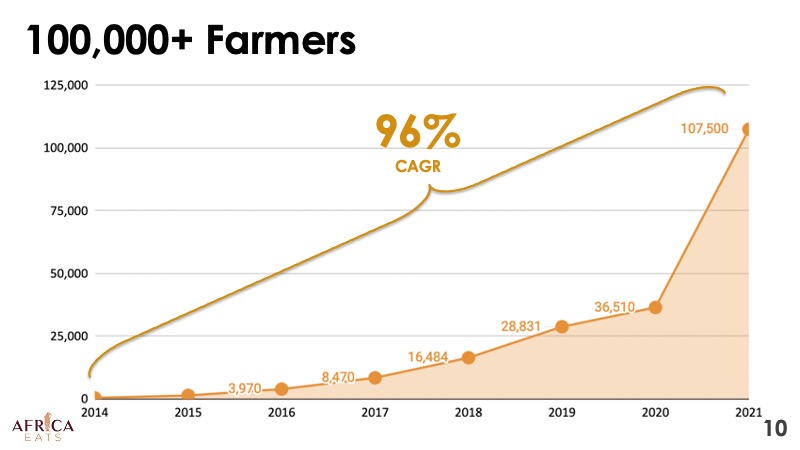 That said, Africa Eats doesn't invest in farmers and very little of the food sold by these companies are produced by the companies themselves.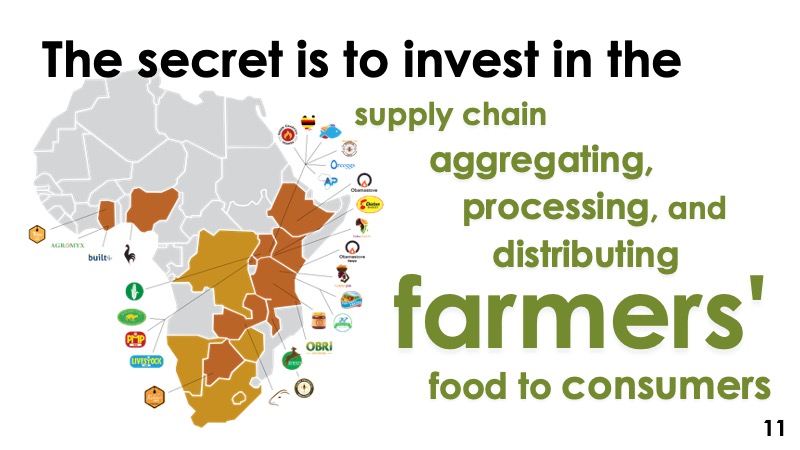 Instead, the secret is to invest in building the food/agriculture supply chain. Build an efficient supply chain and post-harvest losses drop, solving hunger along the way.
Most of the Africa Eats portfolio are what we call aggregator / processor / distributors. They buy from hundreds to thousands of smallholder farmers, do a little processing, and then distribute to restaurants, supermarkets, and retailers.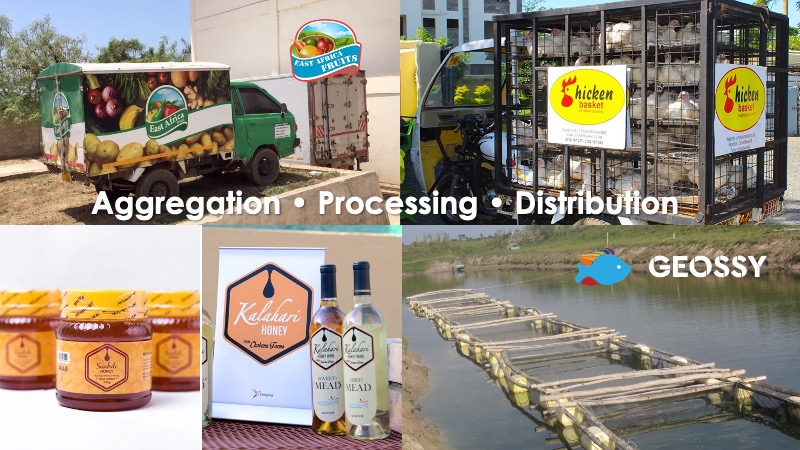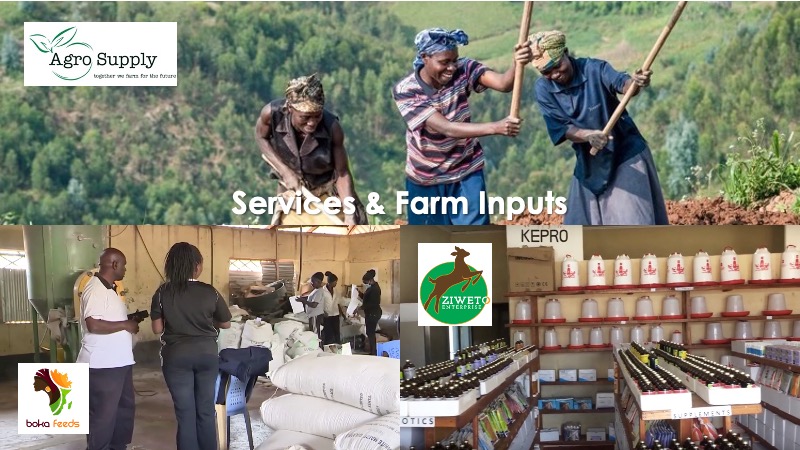 A few of our companies sell to smallholder farmers (e.g. seeds, animal feed, and agrovet supplies).
A few turn agricultural waste into cooking fuel, with Obamstove being second largest manufacturer of clean-burning, efficient cookstoves in Africa.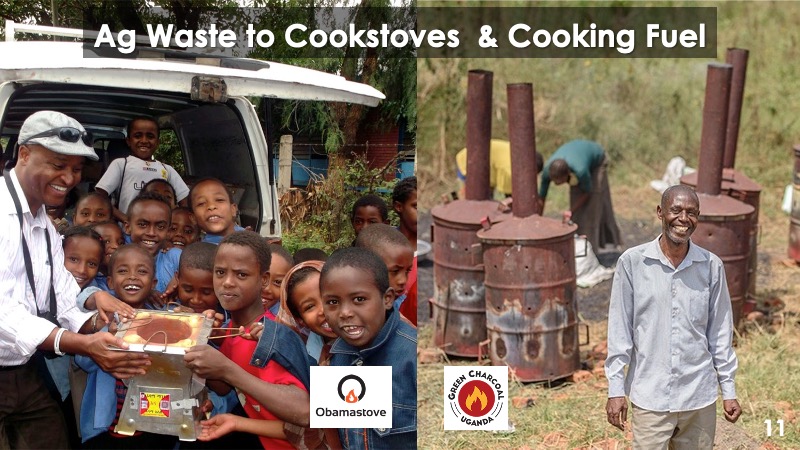 The portfolio page has brief descriptions of each company and a link to the individual pages where you can watch the founders describe their companies on video or on our podcast.
Back to the story of growth, below are a few examples of just how fast can these companies grow?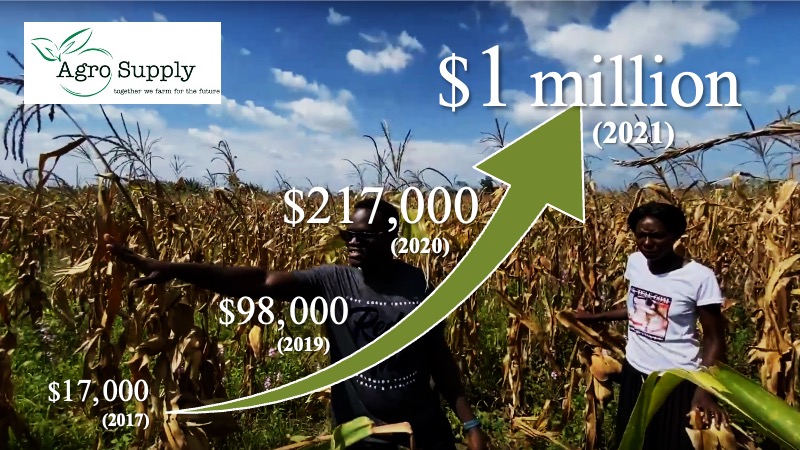 The fastest growth in 2021 was Agro Supply. We met this company in January 2020. They received the first-ever investment from Africa Eats in August 2020. They've grown ten-fold since then.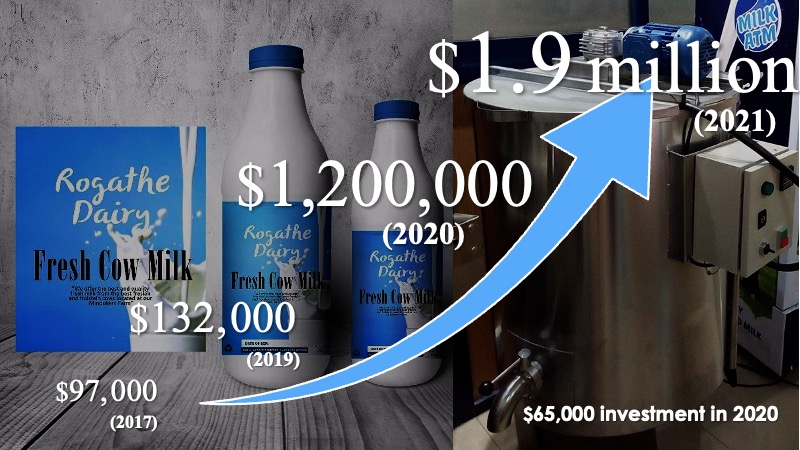 The fastest growth in 2020 was Rogathe Dairy, growing nine-fold that year. We only met them in January of that year.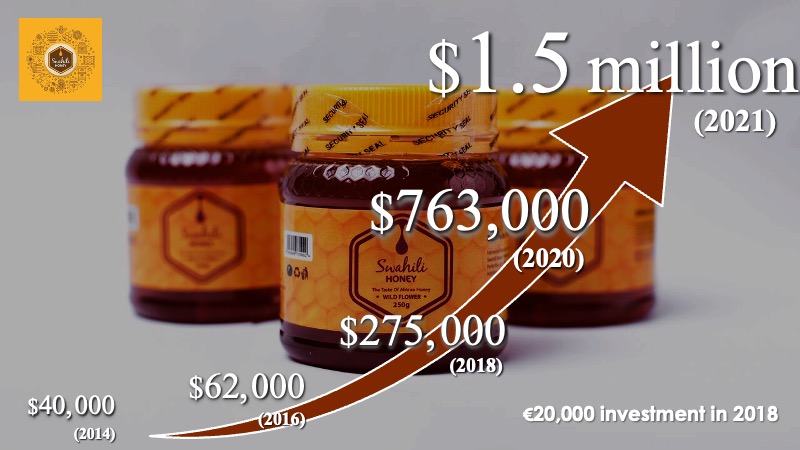 We met Swahili Honey way back in mid-2018. They've been doubling revenues each year for the past three years.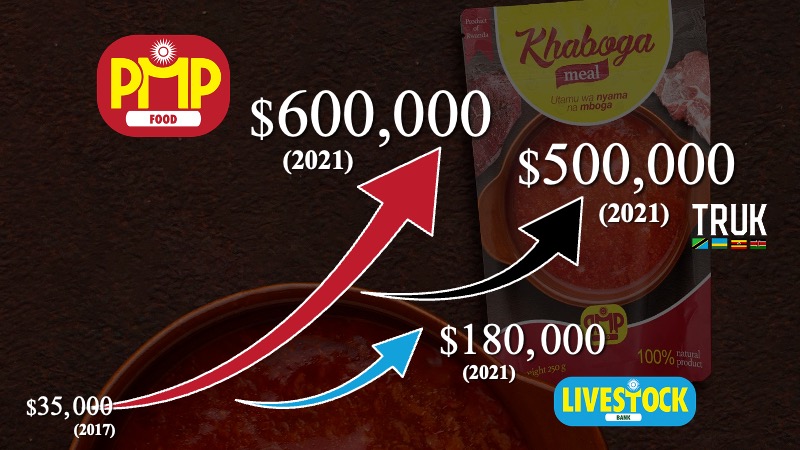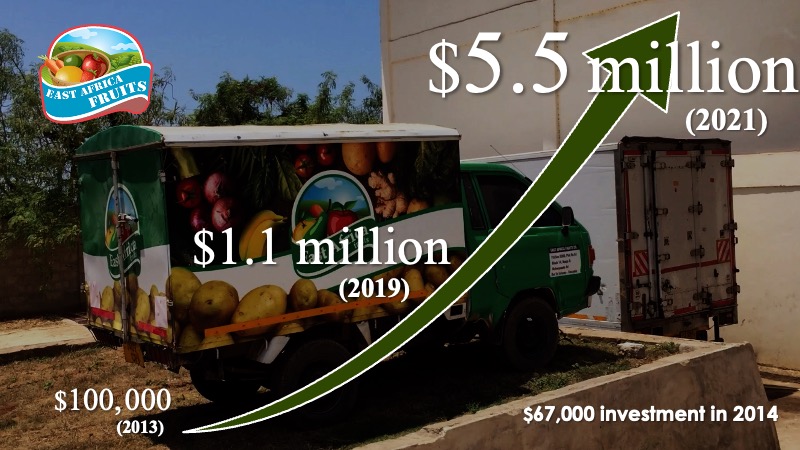 The oldest and largest company in the portfolio is East Africa Fruits. We met this company in 2014, just after the company earned $100,000 in Year 1. It is fifty-five times larger now, the fastest growing as measured by revenues, and the largest aggregator of fruits and vegetables in Tanzania.
Most of the other companies are also growing 50%-100% every year for the past five years. All but two or three per year are profitable (due to weather, pandemic, etc.). Holding back their growth is sufficient working capital, sufficient transport, and once those challenges are met, sufficient equipment to increase production. The consumer demands these companies serve are typically 100x to 10,000x larger than their current production, domestically, before they need to look across a border to expand further.
Back to Africa Eats' mashup of venture capital, accelerator, and Berkshire Hathaway, the piece of Warren Buffet we incorporated is the idea of investing in great companies and holding them indefinitely. Africa Eats would love to own our minority stakes in these companies for the next few centuries. If some get acquired before then, we'll miss them, but unlike a venture capital fund, we don't invest hoping to say goodbye after just 5-10 years.
With that long-term, permanent capital strategy in hand, Africa Eats asks the next logical question… what is missing from the African business ecosystem that is slowing our companies' growth. The most pressing issue, logistics. Most of the 54 countries in Africa lack commercial scale food/ag logistics companies.
We know this both because many of our companies have outgrown the "guy with the truck" and because one of our entrepreneurs spun up TRUK in Rwanda in 2020, which has found customers across much of East Africa.
The other lesson we learned from Berkshire Hathaway is to let the companies manage themselves, providing guidance and oversight with as little holdco overhead as possible.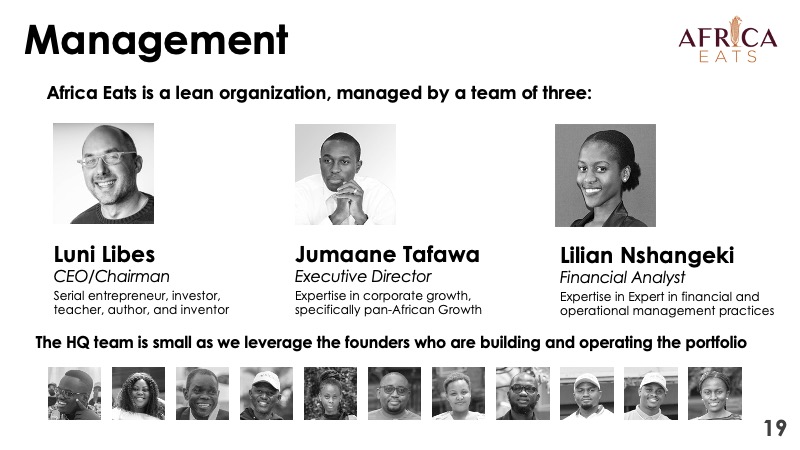 Africa Eats is managed by a team of three. Jumaane and Lilian in Africa, as are all our founders, plus our one mzungu CEO based in the States.
Back to the lesson from Berkshire Hathaway… if we don't plan on any exits, how do equity investors earn a return?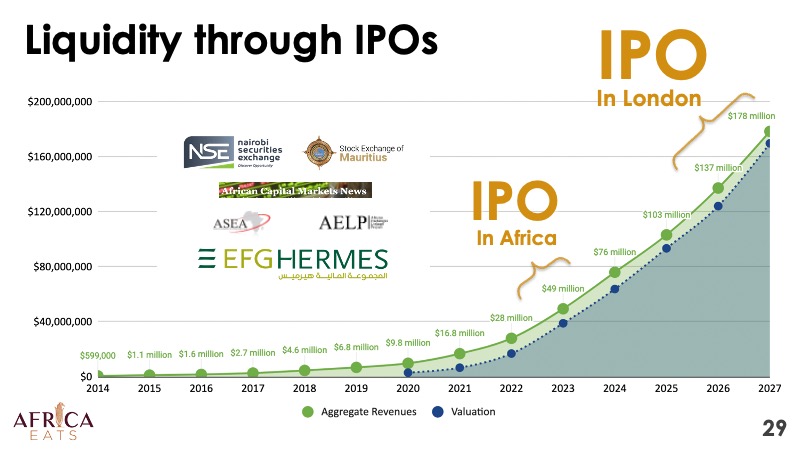 Take the holding company public. The plan is an IPO in Africa ASAP and an IPO in London as soon as the portfolio grows in value past £100 million. At the current growth rate, that last milestone is well within the 2020s, shorter than a 10 year VC or PE fund would take.
Investors are then welcome to enjoy the continued growth beyond then, watching Africa Eats grow the portfolio to hundreds and companies and, if all goes well, billions of dollars of value.
Plan B, if the IPO door is closed, is to sell the portfolio in whole or in parts to a private equity fund or family office, or to a strategic corporate investor interested in a food/agriculture supply chain spanning the continent.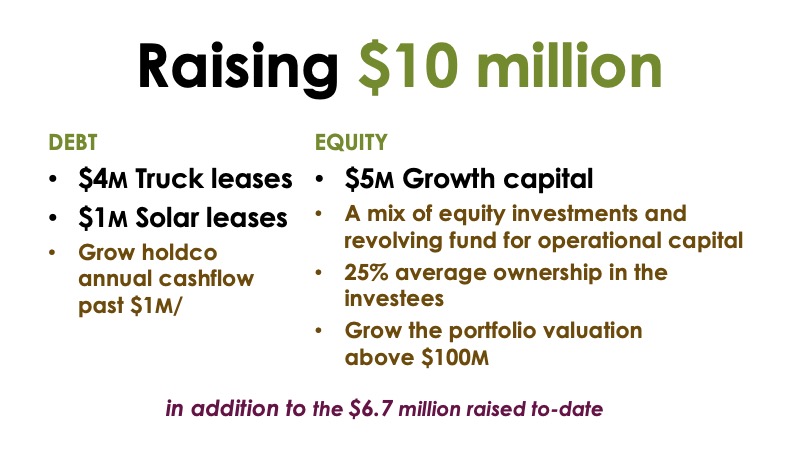 To do all this we are raising (at least)
$10 million in new capital, ideally split 50:50 debt:equity. This is on top of the $6.7 million raised since launch.
If this sounds interesting, contact us for the rest of the details.