The two missions of Africa Eats are lowering hunger and lowering poverty in Africa. Poverty is easier to describe, as most of the Africa Eats bizi buy from smallholder farmers, directly increasing the incomes of those farmers, on average by a factor of two.
At East Africa Foods, the income of their farmers are in recent years above the median income for the country of Tanzania, up from the typical $1/day earned by Tanzanian subsistence farmers.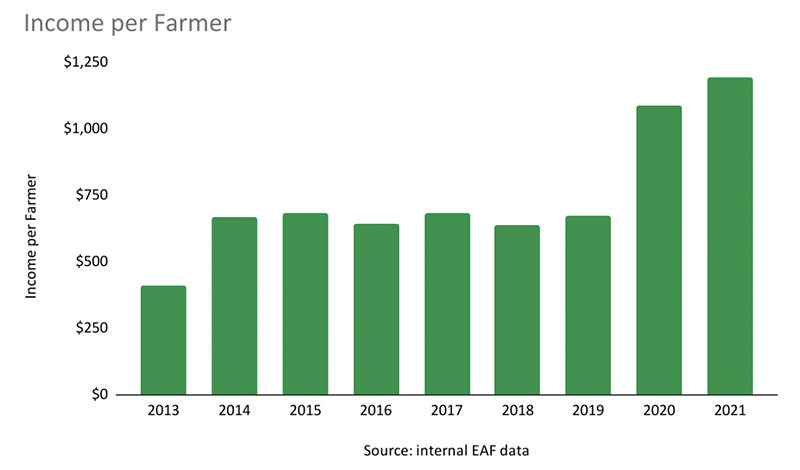 For hunger, the key driver is "post harvest losses", i.e. food that is grown but which never makes it to a meal. Typical reported rates of post harvest losses in Sub Sahara Africa are 30%-70% depending on the crop. East Africa Fruits has been able to drive the losses within their supply down down to 2%. How? Here is an excerpt from their latest impact report:
How EA Fruits addresses Food Loss
In light of the need for an integrated approach, East Africa Fruits stands out as a value chain actor working to minimize food loss across their business: farmers, internal logistics, and retail.
Farmers: Pre Harvest Loss
East Africa Fruits trains farmers on Good Agricultural Practices to reduce pre-harvest losses. This is critical, as the percentage of surveyed farmers receiving government agriculture extension has fallen from 67% in 2007 to 7% in 2019 (National Sample Census Ag, 2020, p. 127). Three examples of Good Agricultural Practice are seeds, irrigation, and pests. Farmers are directed to reputable nurseries where they can source seed varieties with higher yields, shorter maturation time, and more drought resistance.
Through demonstration plots, farmers are exposed to irrigation technologies, and EA Fruits facilitates credit from banks to purchase irrigation. Farmers learn integrated pest and insect management, and are connected to quality suppliers of agrochemicals. Sylvester Chagu reported from EAF's internal database that 2,345 out of 6,637 farmers use drip irrigation, a coverage rate of 41.6% (EA Fruits, 2022). This is significant when compared to the national surveyed rate of 5.4% of farmers who have irrigation (NSCA, 2020, p. 270).
Farmers: Post Harvest Loss
EA Fruits addresses farmers' post harvest losses by teaching improved harvesting techniques. They change the incentive structure for farmers to produce more, higher quality crops. Farmers don't have to struggle with marketing or unreliable middlemen, they know EAF is a consistent buyer.
Logistics
EA Fruits have built their own infrastructure for better post harvest handling. Rural collection centers are built to serve every 1,000 farmers, with dedicated purchasing teams. Their fleet of trucks transport produce to their headquarters in Dar es Salaam. They have built two banana ripening chambers so that farmers can harvest bananas earlier. Green bananas are less susceptible to breaking in transport.
Retail
Once produce reaches their headquarters in Dar es Salaam, small trucks deliver orders to informal fruit and vegetable sellers. EA Fruits overcome their informal customers' lack of cold chain through regular deliveries.
To the right is the typical flow of crops from the farm to a plate. East Africa Foods is able to greatly lower the losses by both buying more of each farm's capacity as well as professionally handling the food from there to the retailers, lowering all the losses from farm to plate.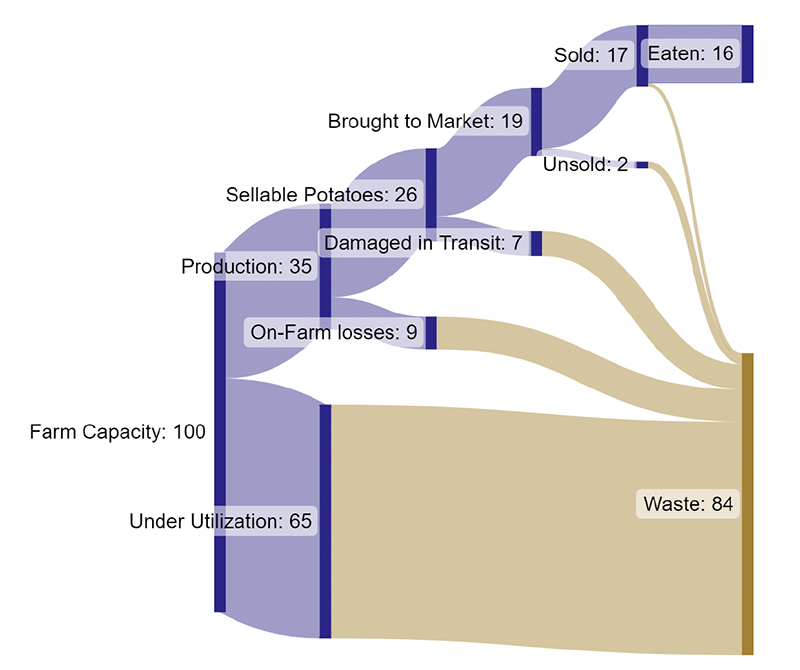 Farmer Testimonials
To better understand the impact EA Fruits can have on individual farmers and suppliers, below is a testimonial from Josephine, a banana farmer. Josephine's story illustrates the difficulty with local sales channels, how farmers are too far away from Dar es Salaam's urban markets, and how lack of incentives and market inhibit production.
BEFORE EA Fruits
Josephine is a banana farmer in Kilimanjaro and is the mother of four children. Before East Africa Fruits, she harvested bananas on a Friday. She had to send her bananas in an evening taxi to the market, as the taxis in the morning are only for passengers, not luggage. On Saturday she left her home at 6am and traveled 15 kilometers to the market, a one hour journey. She would find her bananas at the market, and it was rare to find them in good condition. Most of the time they were damaged with a lot of scratches, and sometimes her bananas were stolen. She could take four hours to sell. When there is a flood of bananas it could take much longer. She sells directly to customers who buy small amounts, and has to negotiate with every customer. On average Josephine sold 3 bunches (180kg) per month for TZS 15,000 ($6.50) total. On rare occasions she harvested 9 bunches (540kg) and could earn TZS 45,000 ($19).
AFTER EA Fruits
EA Fruits gives her TZS 400 ($0.17) per bunch as a cost share for the transport to bring her bananas to their storage facility, 1 kilometer away. When EA Fruits saw the state of her often bruised bananas, field officers visited her house, explaining different ways to harvest. Instead of cutting the bananas from the tree and letting them fall to the ground, they are placed on her shoulder. She adjusted to harvesting green bananas; EA Fruits has a ripening facility. With EA Fruits able to buy what she can produce, she has planted more banana trees. She sources the seedlings from a reputable nursery. Most of the year she harvests 3 times a month. Her average harvest of 60 bunches per month earns her TZS 180,000 ($76) with her annual income now $770 (see Chart 1 for how average farmer income for EA Fruits has changed over time). Josephine's mindset has shifted. She used to see bananas as a food crop. Now that she is able to cover her children's school fees, she considers them a cash crop, and would like to plant more seedlings. She has been recommending her neighbors to join EA Fruits. She was unaware of any agriculture extension, or of credit facilities.
Rating 1-10: Josephine rates EAF a 10. She would rate the previous market a 1.