8 of the 27 companies within Africa Eats were started way in or before 2014. The rest within the last five years. Back in 2014, the cumulative revenues from those 8 companies was $600,000 USD.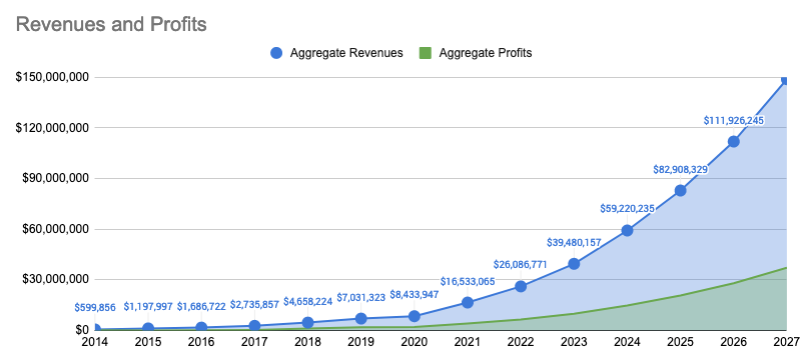 In 2019, the cumulative revenues of this group of companies grew to $7 million USD. That is a compounded annual growth rate (CAGR) of 51%.
For 2020, despite the pandemic, the companies are estimating total sales in excess of $8.4 million. Post-pandemic, our expectation is that the companies will resume their 50% CAGR, growing past $30 million in 2023 and past $100 million in 2026.
The goal for Africa Eats is to file for an IPO before 2024, and to be publicly listed on the London Stock Exchange well before the end of the decade. We explain in Why a Holding Company why we think this is a great idea for not just these companies, nor Africa Eats' investors, but for Africa as a whole.
To do that requires no just fast growing companies, but profitable companies. That is not a problem as nearly all have been profitable since their founding. The average net margin percentage to date is 21%, but the net margins grew to 27% in 2019.
Everyone eats, and as the African population doubles in the next 15 years, the opportunity to feed Africa only grows.