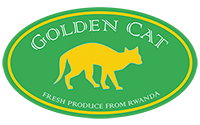 There are only two ways in which a nation that fed 8.9 million in 1962 at independence can feed 12+ million now and 20+ million by 2050. Either by clearing more forest or improving productivity.
Rwanda so far has done more clearing than improving on productivity. Golden Cat exists to improve productivity through improved irrigation, use of fertilizer, technology and innovation, all using a triple bottom line approach of People, Planet, and Profit.
Founded in 2013, Golden Cat grows, packs, and processes fresh fruits and vegetables for export to the UK, Belgium and Holland. The company incorporates small-holder farmers registered as co-operatives and contract them to produce quality fresh products for the export market earning them a source of livelihood.
Our environmental and social impacts include:
Lessening the need for clearing forests, using existing farmland to grow more food through education of better farming practices and access to better farm inputs.
Growing incomes through improved farming practices.
Growing incomes through access to global markets.
Growing incomes through commercial agricultural jobs, such as transport and processing.
Growing community incomes through the multiplier effect as farmers spend their new earnings locally.
Technology transfer to a wider community through construction of controlled farming techniques with irrigation systems and eventually by deploying cold storage.
Demo Day (2017)