What do 27 baby elephant companies do with $2 million of growth capital? They grow. Fast.
Africa Eats Ltd. began just over a year ago with 27 fledglings all growing, but nearly all lacking the resources to grow as quickly as they desired.
A year later, this novel investment holding company has raised over $2 million to help meet those needs. Where did that money go?
Operational capital – The most common problem facing these companies is too many orders. Overall, demand exceeds supply. You'd think that is great, but orders from the big customers get paid 15-45 days after delivery while we pay the smallholder farmers for their outputs upon pickup. So every new big order creates a finance gap and Africa Eats fills as many of those gaps as it can.
Trucks and equipment – The next problem of growth is the need to grow operations. For companies like ours that move food and other goods that means trucks. For the processors it also mean other equipment. Africa Eats funds as much of this as possible too.
(Reliable) Electricity – The national electric grids of Africa are unreliable. Every outage slows the growth at these companies. Africa Eats is deploying solar and batteries on our company's rooftops to provide reliable electricity.
With all this effort these companies have managed to increase their rate of growth. They are on track to grow at an average 70% Y/Y in 2021. And that fast growth is not due to a pandemic-caused drop in 2020, as last year's growth was 41% vs. 2019.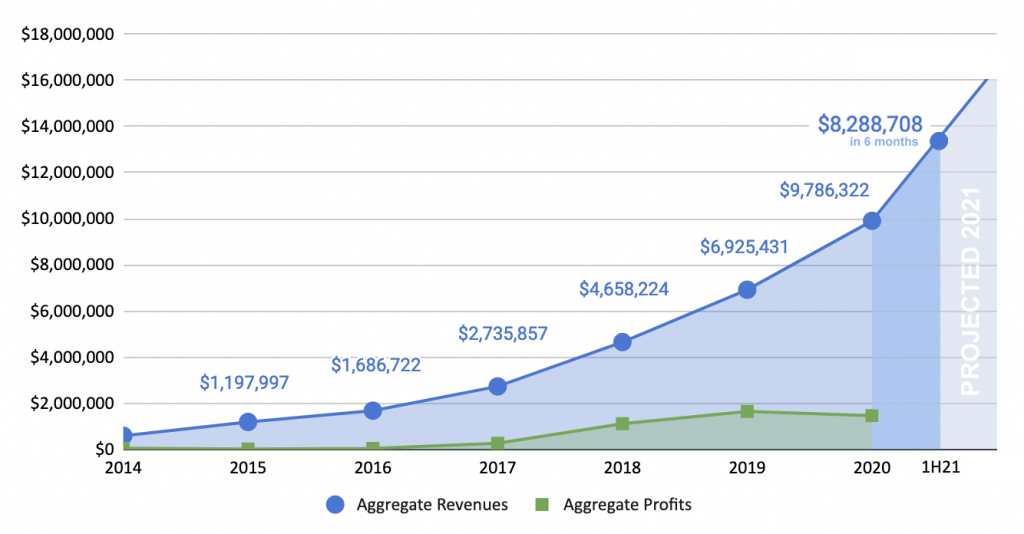 That said, they are we are all eager to see this growth speed up further, as the opportunities ahead of these companies are 1000-fold or more, not just in terms of revenues but also in terms of mitigating hunger and alleviating poverty, as nearly every dollar reported here ends up in the pocket of a smallholder farmer and nearly every kilogram of food they produce ends up in someone's stomach as these companies eliminate post-harvest losses. A true impact investment.
With $2 million raised the next goal is another $10 million. That will again be a mix of debt and equity. If you are interested in earning a market-rate return while tackling hunger and poverty, contact us.
UPDATE – September 2021
Another $400,000 of capital arrived in August and $600,000 has been verbally committed in September. When all that closes the total raised will exceed $3 million.