Africa Eats impacts are broad, as there are a multitude of business models in the portfolio.
SDGs
Simplest is to start with the SDGs. For each company, we simply tick off the SDGs they are most involved in tackling. Below is the histogram.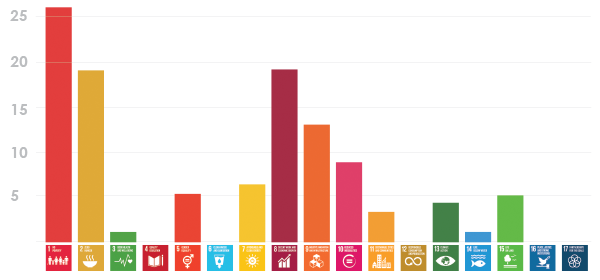 26 of the African Eats companies are tackling poverty. 19 tacking hunger and decent jobs. Half are production companies building industry and infrastructure. Almost half working directly to reduce inequalities, some specifically gender equality.
Those are the obvious and direct goals. Then come others like protecting health by eliminating smoke from cooking fires, preventing deforestation from the reuse of agricultural waste, protecting wildlife, and helping create more sustainable cities.
Gender
Africa Eats doesn't use gender as a factor when picking companies. However, we're happy (but not satisfied) that 1/3rd of the companies qualify as a women-run or women-co-run or woman-focused company.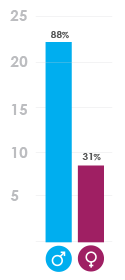 The graph above isn't breaking out those three subcategories.  OBRI, Kalahari Honey, Goldenpot, and Boka Eats are women founded.  Quite a few have a woman co-founder.  A few have a male founder, but the whole network of farmers are purposefully women.
Incomes for Farmers
The KPI we're currently tracking is the cumulative number of farmers in all the company's networks, as most of the companies have cultivated a network of farmers that they buy from. A few have a network of customers they sell to. What we will track in the coming year is the rise in income this activity creates. We know that stat from a few of the companies. East Africa Fruits' 1,780 farmers were earning an average $600/yr income before joining their network (which is roughly the per-capita in Tanzania). Those incomes have grown by a factor of 2x-3x. The smallest factors we've seen is 40%, for Swahili Honey, which is always a second income for their farmers.
Reducing Imports
The SSA countries need to balance their trade if they are ever going to be middle income countries. We look to do this more for reducing imports than growing exports, as resource extraction and low-wages are unsustainable. OBRI Tanzania is the most obvious example of this impact. $126 million worth of oil is imported into the country each year, despite Tanzania being the 11th largest producer in the world, and largest in SSA. OBRI is one of the first domestic producers. There are enough sunflower seeds in Tanzania to replace all the imports. In doing that, we'll remove that trade deficit while saving Tanzanian's at least 25% on their cooking oil, as we charge less than the imports, all while paying the farmers 4x more than they get for exporting their seeds.
Post Harvest Losses
Rockefeller Foundation studies have shown that 35% of grains and 45% of fruits and vegetables grow in SSA are lost before reaching a customer. When we say we're buying from 20,000 farmers, we are not only helping those farmers grow better crops, but more importantly, providing a market and the logistics so that the output from those 20,000 farmers makes it to a (paying) customer. The aggregators in the portfolio all do that. Then Agromyx goes one step further, turning fruits and grain into shelf-stable powder, so that the losses are zero, no matter how ugly the fruit, no matter how sporadic the cold chain.
Protein deficiency
A sub-problem of hunger in SSA is malnutrition, especially protein. Around Lake Victoria, the culture was based around eating fish. The fishery was decimated in the last decade. Now the Ugandan government throws people in jail for fishing. Geossy's founder quit his job to fix this problem. Across the border in Kenya, the go-to animal protein is chicken. But it's nearly all "imported" from Central Kenya, adding to its costs, despite Western Kenya being the more fertile part of the country (but poorer). Chicken Basket is tackling that area. In even poorer Malawi, 90% of the populace are subsistence farmers, with incomes under $1/day (the per-capita of the whole country is under $365). Most incomes come from eggs, chickens, and goats. Ziweto is the importer/distributor of vet supplies and vaccines to help those farmers grow their animals. Livestock Bank mixes this with growing farmers' income. Papoli on incomes plus the fact that turkey's forage. PMP focuses on affordability of animal protein, as the founder grew up eating meat only once per year, on Christmas.
Deforestation
Smoke from cooking kills 4+ million women and children globally, through respiratory diseases.  Three stone fires and firewood is the root cause.  Green Charcoal Uganda, Kencoco, GreenChar, and Obamastove all make smokeless cooking fuel from agricultural waste.  Obamastove makes clean-burning cookstoves.  600,000+ stoves so far.  With an average family of six, that is 3.6 million lives improved, just from Obamastove.  One of the goals we discussed last year was to create Obamastove Kenya, a JV between Obamastove in Ethiopia and Kencoco, and Obamastove Uganda, a JV with Green Charcoal Uganda.  Plus Boka Eats has a subsidiary that makes charcoal briquettes, so we'll find a way to add them in too.
More
There are more impacts including #8 Infrastructure & Industry or #13 Life on Land. Kalahari Honey would say that saving elephants isn't at the top of their list. The four honey companies all talk about increased yields from apiary. Rogathe Dairy talks about fighting malnutrition through fortified milk.
Ultimately, this holdco has the same problem measuring impact as the impact investors as a whole. The portfolio is centered around food and agriculture, but that doesn't simplify the impact down to SDG #2, or #1 and #2.